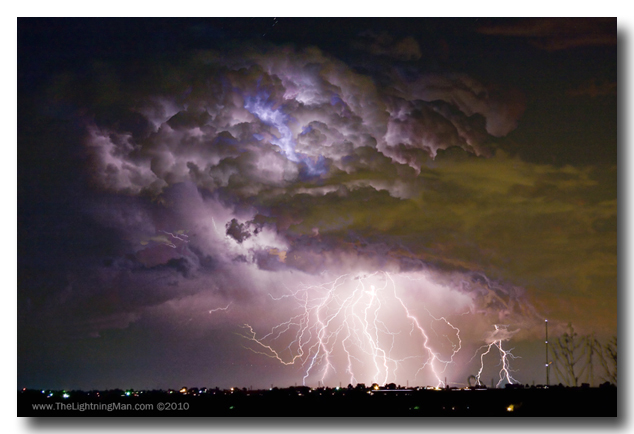 Thunderhead
Highway 52 Storm Cell – Two and Half Minutes Lightning Strikes.  This is  Lightning thunderstorm  east of hwy287 on hwy 52, Boulder County ,Colorado. 08-15-2010.  This is a layered image equal to about a 2 1/2 minute exposure.
Lightning Facts: Approximately 494,000 cloud to ground lightning flashes occur in Colorado every year. Colorado ranks 26th in the nation (Ron Holle, Global Atmospherics, quoted from the Rocky Mountain News,  30th June, 2001)
Lightning bolts spark about 10,000 forest fires annually.  Lightning does not fix on its target until the strike is 30 yards from ground.  Colorado ranks fifth in the number of deaths and injuries per million people by lightning strikes. Colorado's natural resources and volatile weather patterns coupled with a substantial population of outdoor enthusiasts makes the state an area at risk for lightning casualties and fatalities.
As many as 20 percent of lightning deaths in the state occur among hikers and climbers in the mountains. While 80 to 90 percent of people struck by lightning survive the event, one quarter of the victims suffer long term physiological or psychological trauma, according to the National Lightning Safety Institute in Louisville, CO.
Here's a quick story…  I was at a 4th of July Party up in the Mountains at our favorite place called the Yacht  Club.  While there I meet a lovely lady name Dawn.  She asked me what I do and I told her I was a professional photographer and "The Lightning Man".  She looked at me and said "No you are not… my husband Mike is the Lightning Man".  This really caught me off guard.  Then she said "you go over there and talk to him."  So I did.  Here is a guy surrounded by bikers, so I look at him and introduced myself.  "Hey how's it going? My name is Bo and I am the Lightning Man".  Just to see what would happen. Well of of them burst out into an hysterical laugh. Then Said "NO you're not." I tried to state my case and they still laughed at me. Then Mike says to me " Let me ask you a question? Have you ever been struck by lightning?"  I am like "NO that is my number one goal not to". Mike says " You are not "The Lightning Man" until you have been struck by Lightning"     
You see on Aug 17, 2008 … Mike Speck said he was in his back yard getting ready for a pre-wedding party when the lightning bolt hit and he escaped serious injury after he was hit by lightning just hours before he was to be married.  You would think this would be a bad sign but Mike said this is the second time he was hit by lightning.  The first time was 15 years ago, and again that time he was able to walk away with barely a scratch. The wedding went off without a hitch and chose to be married at 8:08 p.m. on Aug. 8, 2008 because eight is a lucky number.  AMAZING!
Mike and Dawn have become great friends since and are probably two of the coolest people you will ever meet.  Mike's Harley Davidson has Lightning Bolts painted all over it.
If you would like to buy one of  Bo's reasonably priced fine art Colorado lightning  photography photograph images, they are available as Giclee Prints, Fine Art Prints, Canvas Art , Framed Prints, Posters and greeting cards. Available all sizes, custom framed or unframed to decorate your office walls, home walls, cafe, restaurant, boardroom, waiting room or almost any commercial space. With Fast, Secure world wide shipping to your door.  Wall prints are also a great gift idea.
Just click on the image to custom order, delivered safely to your door.
Please feel free to browse our other fine art lightning photography images and print galleries for more fantastic striking prints guaranteed to liven and class up any decor.
These Lightning Images are also available for stock photography and licensing. Please contact directly for a custom price quote.
Related Post:
Highway 52 Lightning Storm Photography Image
Lightning Thunderstorm Cell 08-15-10 Photography Image
Lightning Thunderhead Storm Cell Photography Image
Lightning Man with Head in the Clouds – Image
Cloud of Lightning in Boulder County Colorado
Highway 52 Lightning Storm Boulder County Colorado
Lightning Thunderstorm View of Phoenix from Oaxaca Restaurant
Lightning Photography Video – 2
Lightning Strikes – Horses Rear and Run – Photo
Lightning Bolt Strike in The Desert
We're Gonna Wait till the Midnight Hour
North Scottsdale Zip Code 85255 Lightning Storm
For local man, photographing lightning is a calling
STRIKE ZONE – Lightning energizes nature photographer
Budweiser Brewery Ft Collins Colorado Lightning Strike Video
Lightning man strikes Boulder County
Striking Photography -Yippy Yi Yea Magazine
The Lightning Man, Bo Insogna on TV 3
James "Bo" Insogna, "The Lightning Man" Striking Photography featured on ABC News TV 15
James Bo Insogna – The Lightning Man – Striking Photography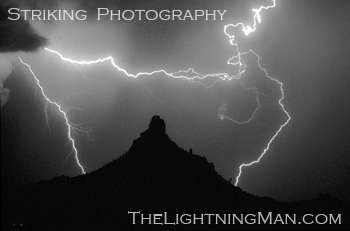 Photography – Longmont – Boulder – Lafayette – Louisville – Niwot– Frederick – Firestone – Photographer