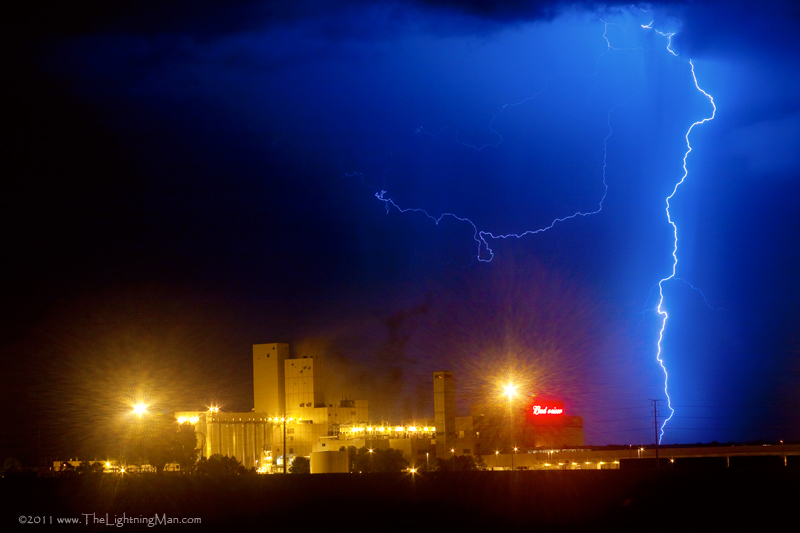 Budweiser Lightning Thunderstorm
One can only image what it was like for everyone working in the brewery this night. Lightning Bolts were flying all over the place… to the left left… to the right  right… watch ya step kid …watch ya step kid 
Lightning Facts: A house or other substantial building offers the best protection from lightning. For a shelter to provide protection from lightning, it must contain a mechanism for conducting the electrical current from the point of contact to the ground. These mechanisms may be on the outside of the structure, may be contained within the walls of the structure, or may be a combination of the two.
On the outside, lightning can travel along the outer shell of the building or may follow metal gutters and downspouts to the ground. Inside a structure, lightning can follow conductors such as the electrical wiring, plumbing, and telephone lines to the ground. 15 sec, f11, 75mm, 100ISO, Tungsen WB.  www.BoInsogna,.com 1-888-682-0122
Click on the image to go to the gallery.
Buy this  fine art Budweiser Lightning  Thunderstorm weather photography print to decorate your office walls, home walls, cafe, restaurant, boardroom, waiting room or almost any commercial space. Fast, Secure world wide shipping to your door.  Wall prints are also a great gift idea.
Please feel free to browse our other fine art print galleries for more fantastic striking prints guaranteed to liven and class up any decor.
This Image is also available for Lightning stock photography Images and non exclusive licensing click here.
Related Post:
Lightning Striking Next To Pinnacle Peak Arizona
Photography – Longmont – Boulder – Lafayette – Louisville – Niwot– Frederick – Firestone – Photographer