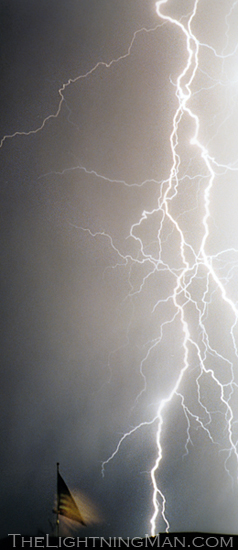 A vertical images of lightning striking next to an American Flag blowing in the wind.  This was an incredible night when I was trying to get some shot of lightning striking with fireworks when this lightning monsoon storm came in fast and hard knocking out the show at rawhide.  So I ran up the road and got this striking image.
Buy this American Lightning Thunderstorm fine art Weather photography image, available as Giclee Print, Fine Art Print, Canvas Art, Framed Print, Poster and greeting cards.  For sale and  available all sizes, custom framed or unframed to decorate your office walls, home walls, cafe, restaurant, boardroom, waiting room or almost any commercial space. With Fast, Secure world wide shipping to your door.  Wall prints are also a great gift idea. Just click on the image to custom order.
Please feel free to browse our other fine art print galleries for more fantastic striking prints guaranteed to liven and class up any decor.
This Image is also available for stock photography and non exclusive licensing.
Recent Fine Art Photography Gallery Prints and Canvas Art  Post:
Colorful Desert Lightning Storm
Moon Sunrise photography photograph Image
Geese in the snow with Silo On the Farm Print
Old Country House Sunrise in Longmont Colorado Boulder County Image