Bo Insogna makes a career of capturing storms
By Laura Snider (Contact)
Monday, June 22, 2009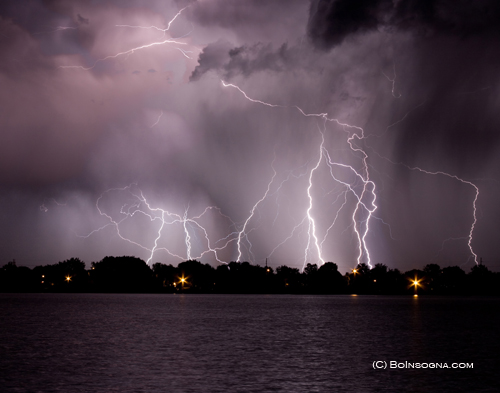 James "Bo" Insogna, of Longmont, specializes in lightning photography. Check out more of his lightning-strike photos at www.thelightningman.com.
LONGMONT, Colo. — James "Bo" Insogna had already been a professional photographer for several years before he took the shot that wowed him — the one that would plot out the course of his career over the next 20 years.
He was working in Scottsdale, Ariz., in 1988 when he captured the bright white streaks of lightning cutting the sky behind a silhouette of tall saguaro cacti.
"I was like, 'Wow.' It was just the most spectacular shot that I had ever seen," Insgona remembers thinking when the film was developed. "And then I started my career as a storm chaser."
Now Insogna, a veteran lightning photographer, has moved back to Boulder County, where he started his first photography studio in 1984. And this spring's string of storms is keeping him busy.
"My neighbors say, 'We're always running inside when you're always running out,'" said Insogna, who now lives near county open space west of Longmont.
The art of taking a good shot of lightning requires flexibility — being willing and ready to go shoot photos when thunder rumbles overhead in the middle of the night — and an eye for composing a picture that captures more than just electricity moving between land and sky, Insogna said.
"It's not about getting a picture of lightning," he said. "It's about getting an interesting picture of lightning."
In fact, Insogna has a wish list of sorts — places where he can imagine the powerful image of a statue, a barn or even a cross with lightning striking behind. When a storm goes in, he looks for the strikes and tries to determine if the storm is in just the right place to become the backdrop he's imagined.
Of course, plenty of times a night of chasing storms doesn't yield any pictures worth using. But that — and the danger of the lightning — are part of the thrill of the chase.
"I have a rule," Insogna said. "If every hair on your body starts to stand up, if you can start to smell the ozone in the air, run for cover."