Publish Date: 8/9/2009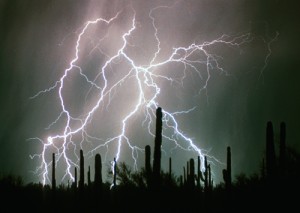 This image from a slide was Bo Insogna's first shot that got him hooked on lightning, taken in the desert north of Phoenix in 1988.
Courtesy James "Bo" Insogna
For local man, photographing lightning is a calling
By Magdalena Wegrzyn
© 2009-2010 Longmont Times-Call
LONGMONT — When the sky darkens, thunder rumbles and lightning glistens most people curl up under the covers.
James "Bo" Insogna grabs his cameras and heads out.
"It's in my blood now," he said, waving off the idea of missing out on a lightning show.
Insogna, a family photographer who lives in Longmont, has found a niche in the world of weather fanatics — photographing lightning.
And this summer's usually stormy weather has kept him busy.
"It kind of took me by surprise this year," he said. "Spring hit, and and it was like wham, wham, wham, wham."
Insogna moved from Pittsburgh to Boulder in 1979 and opened his first photography studio. He relocated five years later to Arizona, where he worked as a freelance photographer for more than 20 years. Two years ago, he returned to Boulder County.
Insogna's infatuation — almost obsession, he admits — with lightning started with a photo he shot in 1988 while working in Scottsdale, Ariz. The image depicts a cluster of lightning illuminating the sky behind a thicket of cacti.
"When the film came back, I was like, 'Holy crap. This is the coolest thing,'" he said.
At that moment, he became fixated with capturing Mother Nature's fireworks. More than 20 years later, he's still wowed by the power of lightning.
On June 22, he followed a spontaneous storm as it traveled north to the Anheuser-Busch brewery in Fort Collins. Insogna set up his cameras on automatic timers and watched from his car as the bolts ripped up the sky.
For the finished product, Insogna layered the shots into one final product, the equivalent of a 21/2 minute exposure. Although he draws the line at manufacturing lightning, he often overlays several minutes of strikes on top of one another to create a more imposing effect.
"I look at lightning as an art," he said.
Last winter, he displayed work at the Muse Gallery in Longmont. This summer, he will present a private show at the National Center for Atmospheric Research in Boulder. His gallery of image are also available for sale on his Web site.
At any given time, Insogna is working on capturing "the shot." One year, it was lightning touching down behind a cluster of horse statues at WestWorld of Scottsdale. For a while, he patiently waited for bolts to hit next to a metal cross in Arizona. This year's ideal shot is a storm outlining Longs Peak.
So far, he's still waiting. In fact, there's quite a bit of that in storm chasing. Occasionally, Insogna brings friends on a ride along. Usually, they fall asleep.
"You waste a lot of time and patience," he said. "You spend a lot of time driving around getting nothing."
Although he shoots on the edge of the storm, it's still a dangerous hobby — especially because the tripods Insogna prefers to use are metal.
"I don't even get out of the car sometimes," he said. "You kinda wait and play it out."
And even if you do see a spectacular storm, Colorado's weather is notoriously fickle. Sometimes by the time Insogna pulls over on the side of the road, the storm has already dispersed.
"I've taken a lot of great pictures with my mind," he said with a laugh.
Magdalena Wegrzyn can be reached at 303-684-5274 or mwegrzyn@times-call.com.
Related Post:
STRIKE ZONE – Lightning energizes nature photographer
Budweiser Brewery Ft Collins Colorado Lightning Strike Video
Lightning man strikes Boulder County
Striking Photography -Yippy Yi Yea Magazine
The Lightning Man, Bo Insogna on TV 3
James "Bo" Insogna, "The Lightning Man" Striking Photography featured on ABC News TV 15
James Bo Insogna – The Lightning Man – Striking Photography